November is a magical time of year on the Texas Gulf Coast. No longer hampered by the extreme 100+ degree temperatures of late summer, throngs of beach-goers, and tourists crowding in to enjoy the beaches, we can now take a breath and enjoy the calm, cool days that follow the occasional cold-front in peace. It seems the fish feel the same because, as anybody who regularly fishes the coast this time of year can attest, they are out there in droves! And as fun as it can be to cast up some fatty Speckled Trout or Bull Redfish with a topwater or spoon, the real beasts are going to be caught using fresh live or cut bait.
Fortunately, for anybody in search of fresh bait, you need not invest in a bucket of the stuff off the boats when there are droves of fresh mullet, whiting, crabs and croaker just waiting for you!
With the change in season comes a great migration of species from North to South. Pompano, Cownose Rays, Cobia – many of our favorite species make the run South to Mexico to enjoy warmer conditions in the winter months. That run includes our favorite baitfish as well. On a calm day, it is as easy as driving down the beach in search of large schools of mullet as they cruise between the sandbars, but even on the worst days it is no more difficult than walking down to the local marina in search of baitfish schooled up in the canals and under docks. Keep an eye out along grasslines in the flats and the base of bridges as baitfish will seek out these spots to feed and hide from predators.
While the mark of a truly professional fisherman is and has always been the massive fish or brim-filled ice-chests that go so littered on social media networks these days, there is no denying the splendor of watching that seasoned professional cast with surgical precision past the rocks of the jetty or legs of the pier and come up with a bucket of bait. And in these late Fall months when the biggest of species are running just past the outer bars of the beach huddle beneath the hulls of the Shrimpers, it is that guy with the freshest bait who is going to be returning with that legendary catch.
About The Author: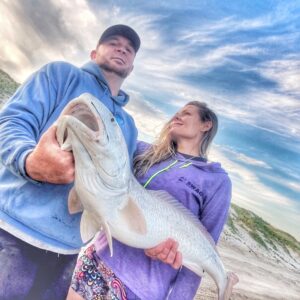 Stanley Orchard is an avid outdoorsman and fisherman from the Padre Island area of South Texas. Along with his beautiful wife Rachel and daughter Savannah he runs a YouTube channel with a weekly Vlog documenting their fishing experiences and the amazing wildlife that they encounter on their many trips along the Gulf Coast. You can learn more about Stanley at the links below.
https://www.youtube.com/stanleyorchard
Twitter/Instagram: @orchardstanley