Piled neatly in the corner of the den is a stack of rods and reels, a decade's worth of heavy-action surf rods, roller-guided 4/0's and small spinning-outfits all carefully broken down and packed decoratively for the purpose of being shown off to guests. They are efficiently in order to allow for quick parceling into the truck come the time for their next use. Beside the motley selection of rods sits several tackle boxes, all filled to the point of broken hinges with an uncountable number of varied-style weights, hooks for every shape and contour of mouth man has ever witnessed, and bundles of lures with colors that span the rainbow. Conversely there is a bucket in a hidden corner of the garage; set just in front of the camping gear and next to a pile of honey-do tasks that have sat unaccomplished for months. The bucket may not be flashy, nor does it enter the stories of epic catches and mythological days on inconceivable seas. And yet it is responsible for every trademark moment; every grand beast pulled from the depths came as a result of that innocuous bucket. This is the bucket that holds my cast net.
The cast net is the unsung hero of the fishing experience. A simple Google search uncovers countless tutorials and guides explaining the process of throwing one. In an industry so riddled with recreational anglers, it is no easier to set yourself apart from the pack than by grabbing up a cast net at the local tackle store and spending twenty minutes watching YouTube in your driveway to learn how to throw it. This act alone can garner you more respect as a fisherman than any quantity of rods or selection of lures. And it will catch you more fish. To most, the goal of the cast net is to quickly nab up as much bait as you can for free. And it is freeing to know that you are not remanded to the quality of bait available at the bait stand, nor are you required to suffer the prices they are charging. But the real objective of the cast net is specifically to get the bait that your fish are eating. It allows you to get your hands on the fish that your target catches are already feeding on. It forces you to be more attuned to what is happening in the environment that you are fishing and to know more about the fish that you are catching. It forces you to be a more outdoors oriented, environmentally-friendly and knowledgeable angler.
You may never come home to brag about the bucket full of mullet that you caught early in your outing. Monday tailgate meetings around the watercooler at work rarely include the saga of bait gathering in the back-bays, and friends and family are rarely treated to the experience of collecting shad on various social media posts. But make no mistake; the greatest catches are not accomplished by anglers with thousands of dollars of rods, reels, boats and tackle or with $3 worth of grocery store bait. For all the glamour of the carbon-fiber poles and multi-bearing reels, most will agree that it's the cast net that allows the angler to have what's needed to land that great catch.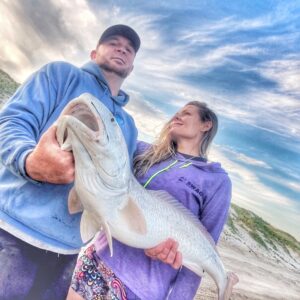 Stanley Orchard is an avid outdoorsman and fisherman from the Padre Island area of South Texas. Along with his beautiful wife Rachel and daughter Savannah he runs a YouTube channel with a weekly Vlog documenting their fishing experiences and the amazing wildlife that they encounter on their many trips along the Gulf Coast. You can learn more about Stanley at the links below. https://www.youtube.com/stanleyorchard Twitter/Instagram: @orchardstanley