FITEC CAST NETS ARE THE #1 CAST NETS IN THE WORLD!
Since 1984, Fitec has been producing America's BEST cast nets! What makes our comprehensive models of cast nets so very unique, is that we are the largest manufacturer of cast nets in the world! Our mission is to produce the finest handmade quality nets at very competitive and affordable prices for you.
Whether you are a first-time recreational cast net thrower, or one of our serious Guide Services Professionals, we want to be sure to provide all of our customers with the best variety of affordable and well-built cast nets that meet the highest expectations
OUR MISSION AT FITEC IS TO WORK HARD EVERY DAY WITH SUPERIOR FOCUS FOR INNOVATIVE AND QUALITY CAST NET PRODUCTS WITH A DRIVE AND PASSION THAT KEEPS OUR FITEC FAMILY COMING BACK FOR The Best Cast Nets in America!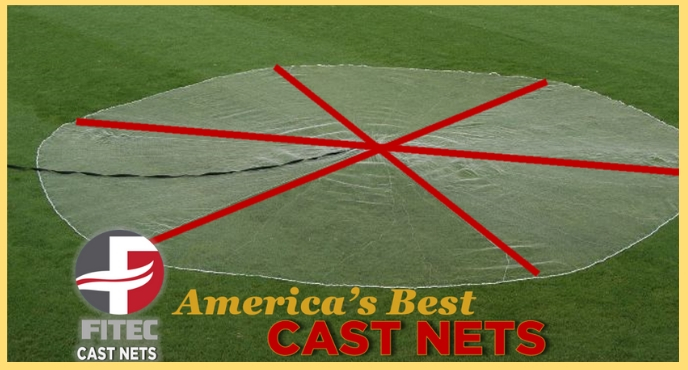 CATCH THE FITEC DIFFERENCE!
SUPERIOR CONSTRUCTION!
Not all cast nets catch the same amount of baitfish and shrimp. Several factors determine what makes a top performing cast net. FITEC'S HIGH-QUALITY SUPER SPREADER™ and EZ THROW™ CAST NETS will provide you with that advantage.
Bait WILL NOT escape with our Superior Construction!
»  Double selvage construction gives FITEC nets twice the durability and strength.
»  Trap MORE bait with our tighter bottom seal, guaranteed with the dual combination leadline of polyethylene and polypropylene
»  The GS-1000 Series' and GS-1500 Series' PIE PANEL construction and the other series' superior gathering in the BULLSEYE construction provide a truer spread and a flatter net than the industry expects.
»  Super high strength and high durability leadline allow for non-kink performance.
»  FITEC'S exclusive SPS™ MONOFILAMENT provides extra strength and durability.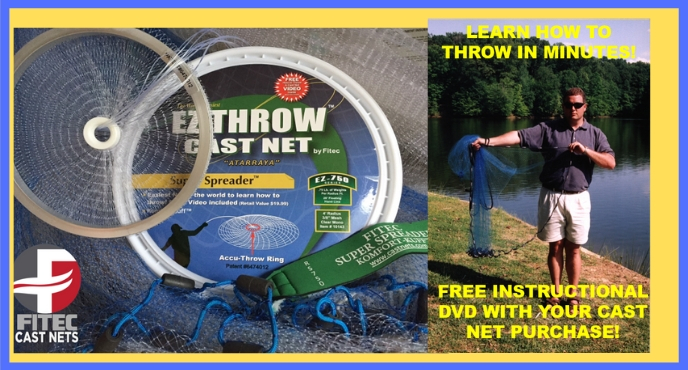 ELIMINATE THE LEARNING CURVE WITH THE EZ THROW™ Cast Net
ARE YOU A BEGINNER?
If you are a beginner and do not have anyone to teach you how to throw a cast net let us suggest that you try one of our EZ THROW™ series cast nets.
»  The EZ THROW™ Cast Net practically opens itself every time it is thrown – even by beginners!
»  The patented ACCU-THROW RING™ is our aluminum ring placed at the top of the cast net to displace the centrifugal force evenly forcing the net to open perfectly every time
»   The free instructional video and guide with pictures with each cast net purchase will have even the rawest beginner casting a perfect throw within 15 minutes and ready to catch!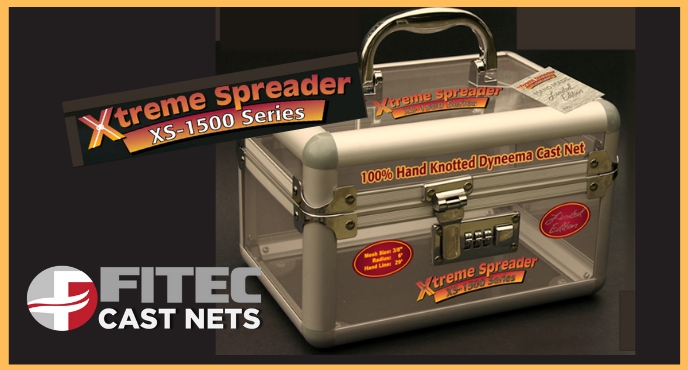 MEET THE FITEC EXTREME Spreader™ Cast Net
The Fitec Featured Series and the Finest Cast Net Available!
The EXTREME Spreader™ 1500 Model is 100% hand-made!  While most cast nets are machine made with netting that is made by hand, each knot of this exceptional casting artwork is hand tied to create the super quality of the EXTREME Spreader™ Cast Net. The special craftsmanship of this cast net shines through for our customers with every throw, and we are so happy to provide the last cast net you will ever need!
»  These nets feature braided DYNEEMA material from DSM which is 300% stronger than monofilament so they are less likely to tear, stretch, shrink, or absorb water.  Braided Dyneema Netting is "as soft as silk".
» Double leadline with 20 Count 100 lb. test Braille Lines and 1.5 lb. of LEAD per radius foot
» Each net has its own unique serial number and is packaged in a specialized storage presentation box that can be useful for long-term use.
This is NOT your Father's Cast Net!