FREQUENTLY ASKED QUESTIONS:
Which Cast Net is best for you?
When selecting a cast net, there are just a few things to consider.  Here are the highlights with some tips!
#1 – What size is your target fish or bait?   The size of your bait directly relates to the mesh size you need on your net.
#2 – Where will be using your net?  The type of water environment, its depth, and current should play a part in helping you determine your best cast net weight.
#3 – How much bait do you intend to catch and how fast do you want to catch it?  This helps determine which radius size is best for you.  The larger radius nets (8 to 14 ft.) will allow you to catch more bait in less time, but they also require a more experienced throwing technique than smaller nets.
Click HERE for The Fitec Cast Net Feature Chart!
Depending on your answers to these questions,
it outlines our recommendations for which
Fitec Cast Net will work best in your pursuit for an amazing net!
FITEC TIPS to think about:
⇒ ARE CAST NETS LEGAL IN YOUR STATE?  Please remember to check your state game and fish regulations before deciding on any particular net.   Here is a link to the U.S. Fish & Wildlife Service list of agencies for each state :   CHECK HERE
⇒  ARE YOU A BEGINNER?  If you are a beginner and do not have anyone to teach you how to throw a cast net let us suggest that you try one of our EZ THROW™ series cast nets. These nets are especially made and patented. They have a ring sewn in that allows for the beginner to throw a perfect circle with limited practice. Each net comes with a instructional DVD video. Within 15 minutes you will be throwing like a pro.   Check out our EZ THROW™ series – HERE!
⇒   3 – 7 Foot Radius Cast Nets are general best all around choices for most anglers.  They are the smaller radius cast net (3 to 7 ft.) and you will still catch good quantities of bait with the good fortune of spending less time extracting your catch.
⇒  More time should be allowed to extract your catch from the larger nets.
Catch the Super Spreader Difference ≈ Super Spread vs. Potential Spread
The Super Spreader Pro Series cast net is correctly designed to generate its actual maximum spread potential.
The exclusive FITEC design process used to create this difference correctly balances the net panels with the proper length of the leadline, thus allowing you to catch more bait.
Bait vs. Escape
What purpose does a cast net serve if it doesn't have a tight bottom seal? Without the seal, your bait will escape.
This is why FITEC uses a dual combination leadline of polyethylene and polypropylene, which provides your net with more strength and an absolute flatter lay down. In essence, a Super Spreader leadline is your lasso for bait. When polyethylene or polypropylene is used alone in a leadline, a wave line is the cause, and bait escape is the effect. So with the Super Spreader's tight bottom seal, you are guaranteed to trap more bait.
A Cast Net's construction affects its ability to lay flat.  The flatter a net lays, the more bait gets trapped when the net is closed.  FITEC offers two very distinct and unique construction designs to help with that!
SUPER CONSTRUCTION, DOUBLE SELVAGE, DURABILTY AND STRENGTH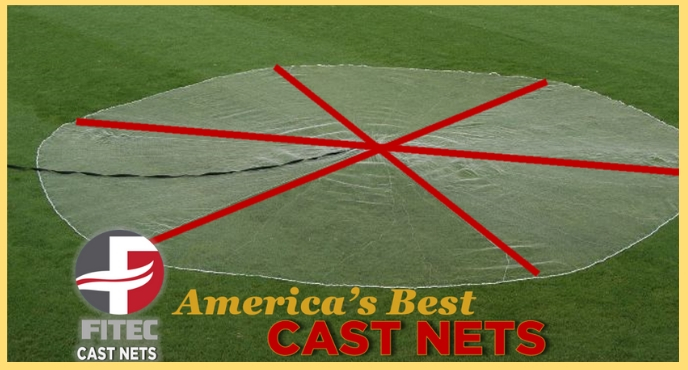 PANEL CAST NET DESIGN
The PANEL CAST NET DESIGN is made by sewing triangular net panels together which causes the Panel Cast Net to  lie flatter on the bottom sealing in the bait allowing NO ESCAPE!
The PANEL Cast Net is available in the FITEC Series:  GS-1000, GS-1500
---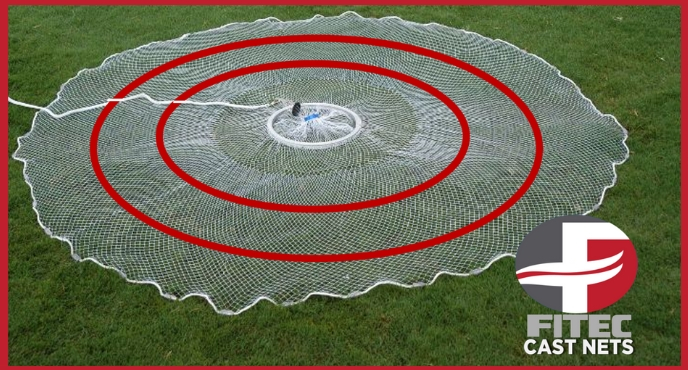 BULLSEYE Cast Net design
The BULLSEYE Cast Net design is made by sewing the cast net strips into concentric circles around the net's horn with each sewed circle gathered at the seam to create an elliptical net.
The BULLSEYE net is available in the FITEC Series: RS-750, EZ-750, EZ-1000
Caring for your Cast Net
Prior to using your net, let it soak overnight in a solution of freshwater and fabric softener. This will soften and lubricate the monofilament netting and braille lines, and it will relax the netting from tight packing.
Inspect your net before every use, mending any cuts or tears.
Rinse your net with freshwater and hang until the leadline is completely dry. Do not use any chemicals to clean your net.
Never hang your net with the leadline off the ground. This will tighten the knots and will remove the "broken-in" feel.
Store your net in a cool, dry environment. Never expose it to the sun for extended periods because sunlight is harmful to the monofilament.
Using your net in areas of reefs, rocks, or other submerged objects could lessen the life of your net. Avoid these areas if possible.


How do I return my net to its original softness?
You can use any brand of fabric softener overnight to soften your net. Put 1 cup of the fabric softener in a 5 gallon bucket of fresh water. Allow the net to soak overnight. You can repeat this as needed to keep your net soft and pliable
Do you repair cast nets? /Should I try to repair my cast net?
Repairing a cast net is not easy. We have found it does not pay to ship the net back and forth to a repair facility. The total cost is usually equal or greater than the original investment for your net.
---
Warranty Information
LIMITED WARRANTY
This cast net is warrantied to be free of manufacturing defects at time of purchase. Manufacturing defects would include any defects in materials and/or workmanship. FITEC will replace free of charge plus a $5.00 shipping & handling charge any net found to be defective prior to immersion in water. Please return nets ONLY to FITEC International, 3525 Ridge Meadow Pkwy, Memphis, TN 38115. Phone (901)-366-9144 NOTICE:
Warranty does not cover misuse or customer damage due to improper use. Rips and tears occurring from use are not warranted, and nets cannot and will not be replaced. If snagged, rips and tears may occur; this is normal. Netting holes can be mended using standard monofilament fishing line to allow you to continue using your net. RETURNS/ITEMS ORDERED INCORRECTLY
All returns must contain a Return Authorization number issued by Fitec International, Inc. and shipped freight prepaid.  Freight collect terms will not be accepted.  Returns are subject to a 15% restocking charge.  The Return Authorization number must appear prominently on the outside of the shipping carton.  Returns shipped without a Return Authorization number will be refused.  Contact Fitec's Customer Service Department at 1-800-332-6387 ext. 110 to obtain a Return Authorization number.