While there are plenty of ways to have fun along the coast of South Carolina, crabbing is an activity that can be done year-round and even get you a free dinner! For Charleston's one and only crabbing adventure, Casual Crabbing with Tia, participants have the chance to catch their own crab with nothing more than some bait and a net or basket, all while enjoying the beautiful low country scenery.
Casual Crabbing with Tia is owned and operated by Charleston native Tia Clark and has been recognized as one of Airbnb's top experiences in the world. While crabbing season is limited in the northern parts of the country, it's a year-round activity in Charleston.
"I crab as long as the weather allows," Tia Clark says. "April and May are always good months, but I like fall crabbing too."
Why Go Crabbing?
"Crabbing is different to me because here in my hometown it's a way of life," Tia says. Since I have become obsessed with crabbing, it's awakened something inside me and is keeping me strongly connected to my heritage and childhood."
For visitors to the Charleston area, crabbing is a great way to connect to the culture and the land. While it is a physical activity, many claim it to be calming and therapeutic. There are very few limitations when it comes to the sport of crabbing.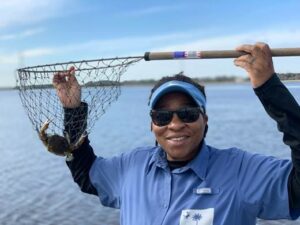 The Necessary Gear
There are a variety of ways to catch crab, but most prefer to use either basket traps or hand lines. Commercial crabbers use larger box traps that are often times set in deeper water. Some are even lucky enough to snag a crab on a fishing rod with either mullet or shrimp. To catch your live bait¸ it's best to use a cast net.
"The only way I catch live bait is with my cast net," Tia says.  "There ain't a net better than my Super Spreader. It's the only thing I toss, and the only thing my Airbnb experience guests use."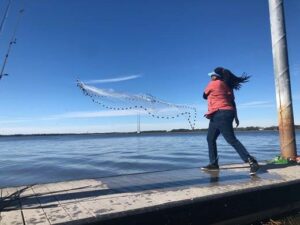 What Kind of Bait?
Crabs are scavengers, so they will eat almost anything. However, even scavengers have their preferences. For her crabbing experience, Tia uses raw chicken, shrimp, mullet, and menhaden.
"Really anything sitting on the bottom," Tia says. "Dead or Alive. They will eat chicken, fish, shrimp and even other crabs. They are vicious, weird creatures that I love so much."
To start, Tia sets all her traps out with raw chicken until she catches something to add or replace with it.
"I normally end up with mullet, shrimp or menhaden," she says.  I set out all my traps, then I grab my 6 or 7 foot Super Spreader Cast Net and get to tossing. If I snag a hogleg mullet, I will either add it to a wire basket or a box trap. Smaller mullet I add to a hand line or a fish hook."
Since crabs also like their bait dead, Tia will sometimes use the live bait once, freeze it, and then use it again frozen.
Catch Your Own Dinner!
The best part of crabbing? You can take anything home of legal size (five-inch minimum carapace width point to point) and have a delicious crab dinner!
If you happen to sign up for Tia's crabbing experience, all you need to worry about is getting your saltwater fishing license. Tia takes care of everything else for her guests including gear and bait. She evens provides a crate and burlap for guests to take away any keepers.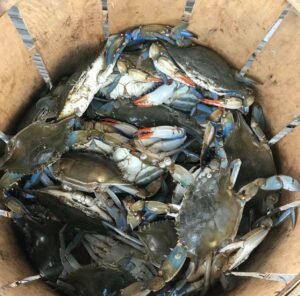 An Activity that Everyone Will Enjoy
Whether you're fortunate enough to live in a town like Charleston, or just passing through, Tia recommends that everyone try crabbing at least once.
"Do you want to do something that makes you feel like a kid again – something that connects you to a culture, something that is physically and mentally challenging (in a good way), something educational that just might put food on the table? Then you should come crabbing with me.  I have created a world of crabbing and saltwater exploration that you can really lose yourself in."
About Tia Clark: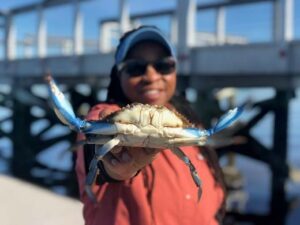 Tia Clark is a Charleston, South Carolina native and food and beverage veteran who started her company, Casual Crabbing with Tia, in 2017 when health problems led her to make an overhaul of her diet and lifestyle. She now hosts the Airbnb Experience, "Let's Go Crabbing," recognized as one of Airbnb's best in the world. Tia's friendly, genuine, fun-loving nature and passion for her craft have garnered local and national media attention. She is constantly amazed and humbled by the attention paid to her small operation that is rapidly growing into a dream career.  When she isn't crabbing, Tia enjoys playing pool, inshore fishing, and watching her 11-pound chihuahua/terrier mix, Foxy, chase squirrels.
Those interested in learning more or to book Tia's crabbing experience, you can check out her Airbnb Experience and any of her social
media pages at the links listed below.
Airbnb Experience: https://abnb.me/cL9RxXuZhZ
Facebook: https://www.facebook.com/thecasualcrabber