By: Captain Michael Littlejohn
It's Striper season here in Texas, and shad continue to be the live bait of choice amongst fishermen. While shad have gained a reputation for being the most reliable bait to land a trophy Striper, there are four things to consider when using them to land that big catch.
1 – Live Bait is Better
Stripers are very active fish that generally prefer live bait over cut bait. They are opportunistic fish and will eat cut shad, however, they feed in schools and generally feed in frenzies where bait is alive and running away from them. In general, it's important to replicate the closest thing that the fish you're trying to catch would normally eat.
2 – Having a Bait Tank is a Must
When using shad for Striper fishing, the livelier the bait the better. Therefore, having a bait tank that can maintain them until use is very important. The right bait tank, combined with proper water and conditioning, can hold your live shad for several hours before using them.
3 – Remember that Striper Fishing is Different than Other Types of Fishing
Striper fishing rarely has to do with "spot fishing." In other words, a lot of different types of fishing require anglers to find "spots" where fish live and stay, and they are often able to go back to that spot every day. This is not the case with Striper. Striper cover LOTS of water and can move a mile or more in just one day in search of food. Therefore, the striper fisherman is very mobile and very nomadic in nature.
4 – Brush Up on Your Cast Net Skills
Investing in a good cast net will provide a way for you to catch your own shad, saving you money from heading to the live bait shop. Make sure to check your state's local game and fishing regulations, as different states have different laws on the usage of cast nets. For a great variety of cast nets, you can visit www.castnets.com. Fitec Super Spreader Cast Nets are our nets of choice and can be purchased through a listed dealer on their website, or direct from the site itself.
About Captain Michael Littlejohn: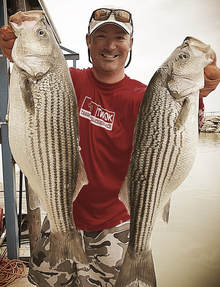 Captain Michael Littlejohn is a licensed fishing guide and owner of the Tawakoni Guide Service in Lake Tawakoni, Texas. Captain Michael has been guiding since 1998 and is a U.S. Coast Guard licensed captain. He holds guide licenses for both fresh and saltwater fishing in the state of Texas. The Tawakoni Guide Service is the largest (and only) guide service on Tawakoni Lake that specializes in multi-species trips, including: Striper Fishing, Hybrid Fishing, White Bass, Channel Catfish, Largemouth Bass, Crappie Fishing and Monster Trophy Blue Catfish Fishing. You can also follow them on Facebook, Instagram, and Twitter.