If you think live bait can't be used for fly fishing, think again. In both inshore and offshore fishing, many anglers are using live chum bait to aid in their catch of Redfish, Snook, Tarpon, Bonefish, Striped Bass, and more! This technique is sure to get that big catch into your sights before your fly is cast.
Captain Dino is a full-time fly fishing guide at Only on a Fly Guide Service in Jupiter, Florida. Whether you're after inshore species like Snook and Tarpon or prefer to go offshore for False Albacore or Blackfin tuna, Captain Dino has the boats, fly tackle and knowledge to help his customers have a fun and exciting experience out on the water.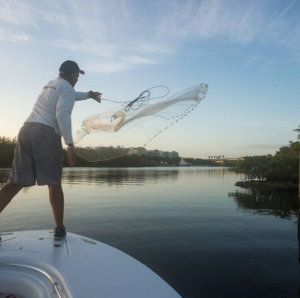 During the months of April through October, Captain Dino does a lot of live chumming with fly fishing. A typical day will begin by throwing a Fitec Cast Net and filling up his live well. A 10′ foot net from our GS 1500 Series is Dino's net of choice, and he prefers to use a 3/16 or 3/8 inch square mesh. Captain Dino is specifically after glass minnows, pilchards, and sardines. After grabbing his bait, it's time to catch some fish!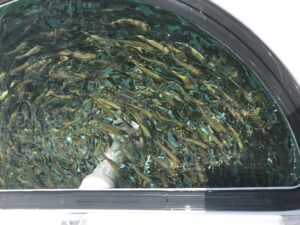 Once he has marked his fish, Captain Dino will begin ladling out the live chum – usually around a dozen at a time.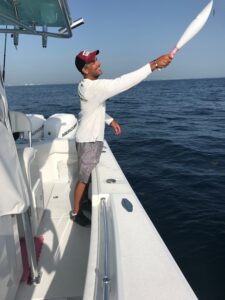 "After you ladle out the live chum, you hope that the game fish will come up to crash the bait," Dino says. "That's when you cast your fly and hope for a catch."
About Captain Dino: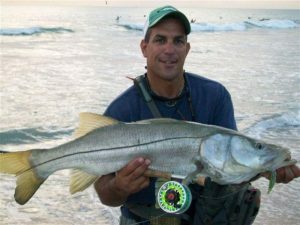 Captain Dino grew up in New York and was introduced to fly fishing at a young age. Growing up, he would frequently fish for trout and steelhead. After guiding for ten years out of Staten Island, Captain Dino moved to Florida in 2003 and has been running his fly fishing guide service there ever since. Only on a Fly Fishing Guide Service offer both inshore and offshore fishing. Customers can expect to catch striped bass, false albacore, bonito, and more. You can learn more at www.onlyonafly.com.